Most people are longing for retirement with their spouse, with no need to work, get stuck in busy traffic during peak hours or serve the demanding boss. They might travel around the world for vacation or go aboard to visit their grandchildren. After all these, retirees have to plan their daily schedule such as hiking with friends, learning new knowledge or participating in volunteer work. However, some might experience trouble as their memory seems deteriorating when transiting from the world of work to the world of leisure. For example : […]
According to government statistics, the population of persons with chronic diseases had reached 1,375,200, being 19.2% of the Hong Kong population. Half of this group are aged 65 or above.   Co-mobidity is common amongst them. Suffering chronic diseases or deteriorating health conditions induce various limitations in daily life.  Age-friendly design is necessary to meet their needs for a quality living in this growing population group.
Research shows that most of the senior population prefers to remain at home if their health condition and safety are under good care. Those who have difficulty in taking care of themselves in daily living, including moving around and handling the daily routines can benefit from a wide range of equipment known as the "assistive technology".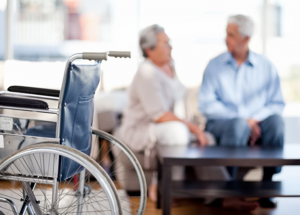 Is your home ideal for aging ?
Assistive technology is any equipment or tool that helps or enhances their ability to perform daily routine tasks such as eating, walking and bathing. Such technology can be as simple as a walking stick to move around or an amplification device that enables them to talk on the telephone or to watch television. Or a stylish and compact indoor electrical wheelchair helps to move around the apartment easily and also with devices assisted for using toilet or bathing.
Recently, Smart Living@Science Park launched an exhibition featuring more than 50 technologies encompassing Daily Living, Health Monitoring, Home Safety and Rehabilitation. Safe Concept limited is honored to be one of the exhibitors to showcase the Kradal safety tiles in the category of home safety.
In Hong Kong, one third of the elderly suffered from hip fracture died within one year after the fall-related injuries Kradal is made up of thousands of micro-spheres that optimize cushioning impact and provide a resilient floor surface for any high traffic area. It can absorb the shock on impact, 71.5% more energy than concrete surface and 64.2% more energy than vinyl. Research of University of Karlstad ( Sweden ) showed that fall related injuries were significantly reduced by 60% by using Kradal Safety Tiles. The findings were published in Injury Prevention, British Medical Journal 2015.
It is time to take action to protect your senior family members in reducing the chance of bone and hip fracture. The tiles can be installed on floor or onto the walls in bathroom and toilet to protect their head from hitting the wall during the fall. Other preventive measures such as a pair of non-slippery shoes, dry floor and tidy environment are also important. To have a look and feel the safety tiles, you can visit the showroom of an age-friendly home at Lobby, G/F, Lakeside 2 (10W), Science Park as well as to know more about the local technology innovations.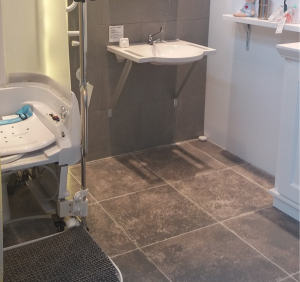 Kradal safety tiles in the showroom at Smart Living@Science Park
For example, in health monitoring, a mobile personal care plan (PCP) and point of care system (POC) helps to co-ordinate the caring between care-giver and care-taker. Telemedicine is possible at home by uploading the heart or lung sounds by mobile App via Bluetooth and internet connection. Though some of these technologies are still under research, the successful application in future is promising.
All these advancement make the life of elderly or persons with disability at home not only easier, but less dependent on others. In the long run, it could also reduce the caring cost compared with institutionalization. 
References :
Persons with Disabilities and Chronic Diseases in Hong Kong, Feature article, Hong Kong Monthly Digest of Statistics, Statistics Department, HKSAR, January 2015.
Smart Living@Science Park – Ageing in Place Experience Tour https://events.hkstp.org/SmartCityCampaign/index.html  retrieved on 31. March, 2017.
Assistive Technology Helps People Age in Place – Next Avenue    http://www.nextavenue.org/assistive-technology-helps-people-age-place/ retrieved on 31. March, 2017.